RESEARCH AND DEVELOPMENT
Research and Development plays a crucial role in ensuring the long-term competitiveness of MOL Group's Downstream business in line with our 2030+ strategy. We are committed to creating sustainable value for our customers and driving changes through novel solutions and products.
While continuing to serve today's business areas Refining, Lubricants and Petrochemicals, we as Research & Development contribute our technical expertise and innovation power to the development of tomorrow's business areas and to the transformation of our business towards a more circular economy.
DOWNSTREAM R&D IN NUMBERS
>500
analytical instruments
WE CURRENTLY OPERATE IN 5 MAIN AREAS
Highlighted Downstream R&D focus areas
SUCCESS STORIES
XXL Diesel
For every transport and freight forwarding company, it is vital that their vehicles operate reliably and economically. With this in mind, MOL has developed a state-of-the-art new fuel, XXL Diesel, based specifically on the operating characteristics and specific features of large diesel engines, which has won the 2017 Industrial Innovation Award in Hungary thanks to its modified composition and special world-class additives.
XXL Diesel reduces deposits in the fuel supply system and improves combustion chamber cleaning of deposits, resulting in cleaner engine operation and longer engine life, thus reducing maintenance costs.
XXL Diesel can be used in all types of vehicles with diesel engines without restriction and is fully compliant with the MSZ EN 590 diesel standard, however, the benefits of the product are most noticeable in large diesel engines.
XXL Diesel is a reduced emission fuel specially developed for large-scale diesel engines,
Significant fuel savings of up to 2-4% can be achieved,
A truck can reduce its carbon footprint by around 1500-3000 kg of CO2 per year.
The availability of the advanced XXL Diesel fuel has been developed to meet the needs of transport and freight companies along major transport routes in Hungary.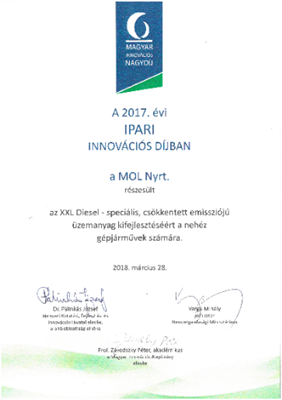 H
i

5 Racing fuel development
The development of new racing fuels is a highly complex process driven by the desire to fulfill customer needs. In a successful collaboration between MOL Racing Ltd. (formerly Hexán Ltd.) and MOL Group's product development team, a new racing fuel for R5 category rally cars (1.6 litre turbo engines, four-wheel drive) was developed that received overwhelmingly positive customer feedback due to its best-in-class exit phase acceleration performance.
After identifying customer needs over a period of two years involving dozens of racers and engineers, fuel recipe development started by testing several fuel components in a computer model. Lab tests were followed by production experiments focusing on fine-tuning for high-volume production. To ensure that the positive results in the laboratory match the user experience, an external company was contracted for bench testing the fuel using special, top category rally engines. The tested product was also examined in a FIA-accredited lab and received FIA's international certification.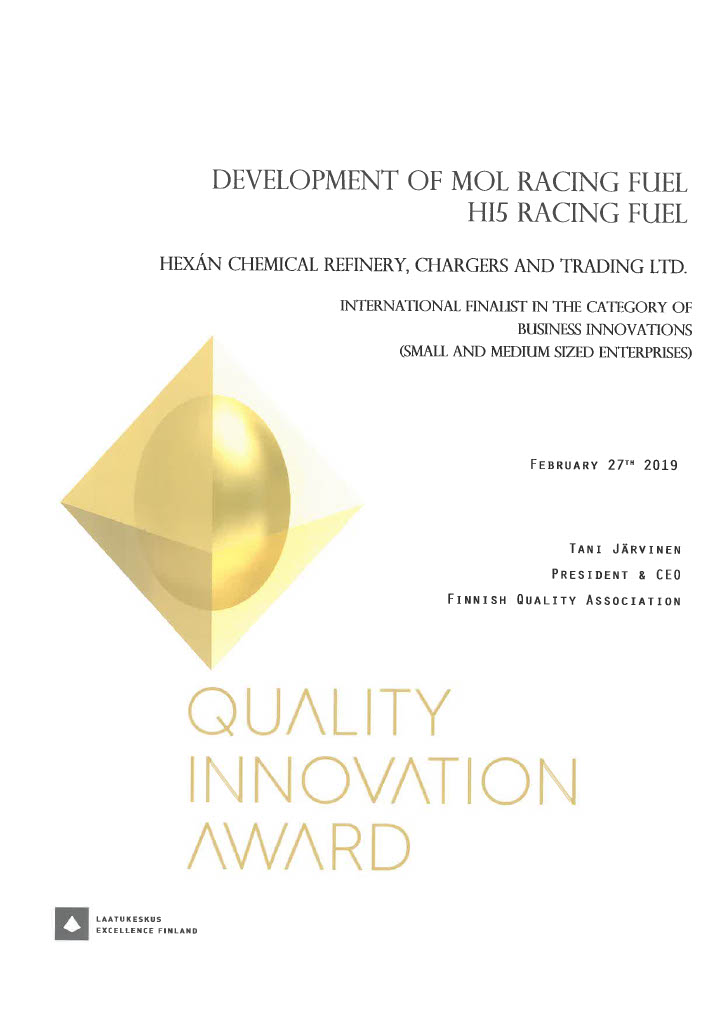 Hi5 racing fuel debuted at the Acropolis Rally, and MOL Racing Team's driver Norbert Herczig expressed a very clear opinion on the new fuel: "When we kicked off at the start, I felt as if we got a hit in the back with a spade. The car just rocketed out of the grid so fast that I was stunned. Switching gears was much faster than before, I think they did a terrific job at Százhalombatta [location of MOL's Development Center]" (Link to a TV interview). The development of Hi5 racing fuel has not just been a commercial success and has proven its value to rally drivers, but has also achieved to be one of the international finalists between the SME companies in the Quality Innovation Award 2019, which is a great recognition for the research and development team.
Co-processing of renewable feedstock
Following several years of research and development MOL Group has stepped up the value chain and has become a biofuel producer, through the realization of an investment in the Danube Refinery. Bio feedstock is co-processed together with fossil materials increasing the renewable share of fuels and reducing up to 200,000 tons /year CO2 emissions without negatively affecting fuel quality.
MOL started co-processing as an R&D project in 2012 based on the research results of Pannon University. Types and quality requirements of processable raw materials were determined and the investment was launched in 2018. This included the necessary infrastructure development for storing and processing the new bio-materials. The trial operation of the new process started in March 2020 and has been operating regularly since May 2020.
MOL's co-processing process has been awarded the Environmental Innovation Award for the most significant innovation achievement of the year 2020 by the Hungarian Ministry of Agriculture. The jury's members are scientists and leading economists invited by the Board of Trustees of the Hungarian Innovation Foundation and chaired by Dr. László Palkovics, Minister of Innovation and Technology. The Innovation Award is given based on the originality, novelty and social utility of the innovation.
Used cooking oil (UCO) is one possible renewable feedstock for alternative fuel production (e.g. UCOME). Projects targeting the establishment of collection schemes were launched by MOL Group companies in Croatia, Hungary and Slovakia. Biofuel produced from waste makes a significant contribution to meeting the objectives of the EU Renewable Energy Directive and the Waste Management Plan of the Republic of Croatia. The project also reduces the environmental problems caused by improper disposal of UCO. We are pleased to observe that the collected quantities increase from year to year.
Rubber bitumen
In 2012, MOL opened and successfully operated a pilot plant for rubber bitumen with an annual capacity of 5,000 tons at the Zala Site. In response to increased demand, MOL started building a new plant in the spring of 2019.
The new rubber bitumen plant was completed at the Zala Site, representing an investment of around $10 million. The facility, built in one year, is capable of producing 20,000 metric tons per year of rubber bitumen. As well as recycling 8-10 percent of Hungarian domestic tire waste, the new plant will contribute to the efficient operation of the Zala Site and to the preservation of over 100 jobs.
The new manufacturing technology of rubber bitumen, which is made from bitumen and waste tires, was developed jointly by MOL and Pannon University. Chemically stabilized MOL Rubber Bitumen was patented in 2005, and in 2014 it was awarded the Environmentally Friendly Product Trademark. MOL Rubber Bitumen has received many domestic and international awards. Among other things, it won the Environmental Innovation Award in 2015 at the Hungarian Innovation Grand Prix competition. It also won the "Innovative Product of 2016" award of IChemE (Institution of Chemical Engineers), in a strong field consisting of 23 international applicants.
All the necessary conditions are in place for rubber bitumen roads to become more and more widespread. Hopefully, this will result in road conditions improving noticeably in the long run, as the excellent adhesion of the rubber bitumen to minerals reduces the chances of pot-holes forming and its higher load capacity will result in a lower likelihood of ruts appearing. Around residential areas, it can be an important consideration for construction companies to use this to achieve significantly lower levels of traffic noise, reducing environmental noise pollution.
Polyolefin developments
Recycled PP for edgeband application

A talc-filled natural color PP for edgeband application with 50% post-industrial waste that replaces outdated PVC products.
 
New PP impact copolymer for lightweighting solutions

Tatren IM 15 79 is an ethylene-polypropylene impact copolymer grade with medium flow and high impact resistance. Structure and composition of the grade enable a potential reduction of elastomer or mineral filler during compounding. Its main applications include automotive compounds, storage and transport containers, medical containers, rigid boxes, crates and luggage.
Are you interested in learning more about this product? Click here.
New HDPE for plastic fuel tank suitable for IC and PHEV

TIPELIN BS 450-27 is recommended for the blow moulding or twin sheet blow moulding of mono- and multilayer fuel tanks for the automotive industry.
Are you interested in learning more about this product? Click here.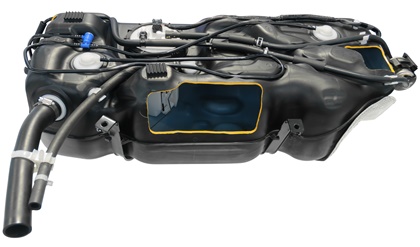 New recycled HDPE with high ESCR

Remolite is a product with 50% post-consumer waste content and an extremely high ESCR property. It can be used for extrusion blow molded HDPE bottles for dangerous goods up to 30 l volume.

New LDPE product for high demanding packaging film

Bralen+ FC 2-18 and Bralen+ FC 4 -32 for highly demanding film applications like lamination films, stand up pouches, thin packaging films, surface protection films etc. Higher density and low gel content provide potential for improved processability, better mechanical properties, low migration and processing for confection.
Are you interested in learning more about this product? Click here.

New PP product for highly transparent bottles for EBM, ISBM technology

TIPPLEN R665 XClear is a new benchmark product with very high gloss and transparency combined with an easy-to-recycle product design.
Are you interested in learning more about this product? Click here.
New HDPE for high-performance blending with rHDPE (PCR/PIR)

TIPELIN BS 502-43 with its improved thermal and colour stability simplifies economical post-consumer (PCR) or post-industrial (PIR) recycling and supports multiple processabilities.
Are you interested in learning more about this product? Click here.