Shape tomorrow
MOL Group updates the company's long-term strategy, that is now fully integrated with a new sustainability strategy — aligned with the European Green Deal ambitions — and complemented with a vision beyond 2030.
Our vision is to be a key player in the low carbon circular economy in Central and Eastern Europe. A highly efficient company, providing sustainable materials for the economy, low carbon fuels for mobility and convenient products and services for the people on the move.
Our long-term strategy has so far proved to be progressive, credible and directionally correct. However, the green energy transition has accelerated to such an extent that we also need to accelerate our transformation to enhance MOL Group's resilience and its ability to shape a sustainable future:
we will sharpen our focus,
increase efficiency further and
seek new opportunities with a stronger determination for new opportunities.
Our ambition has not changed: we remain deeply committed to transform our traditional fossil-fuel-based operations into a low-carbon, sustainable business model.
We have the capacity, the will and the expertise to shape a sustainable future and drive progress in the CEE region. MOL Group's resilient and integrated business model provides stable, long-term profitability and allows the company to move in new directions. MOL will spend USD 1bn on new, low-carbon and sustainable businesses in the next 5 years to become a key player in CEE in circular economy.
Sustainability
Focus on climate change and stakeholder expectations
As changes around us have accelerated, green energy transition is also speeding up considerably, climate related targets and regulations are getting more ambitious and the importance of ESG topics is growing for the whole society. MOL Group has made sustainability integral to its long-term strategy. Our sustainability framework helps MOL Group to be a driver of changes along the low-carbon transition in Central and Eastern Europe and our targets address the expectation of all stakeholders.
Sustainability focus areas:
Our Climate change related targets:
MOL Group's future plans target to be in line with the European Union's Green Deal ambitions to become a net zero CO2 emitter by 2050 on all scopes
By 2030, our aim is to reduce the company's scope 1+2 CO2 emissions by 30%.
By 2030, at least 50% of total capital expenditure will be spent on sustainable projects, in line with the EU taxonomy; by 2050 (or earlier) all investments will be green and in compliance with the EU taxonomy.
Other sustainability targets:
Improve safety performance: zero fatality, TRIR <1.0, eliminate significant API Tier 1 process safety events
Instigate responsible procurement strategy across all businesses until the end of 2022
Annual ethics training for 100% of employees
New waste utilization & integration and water reservation strategy
Keep sustainable employee engagement level at min. 75%
Having a diverse and inclusive workforce will be also key to success on our complex transformational journey. We target to increase female participation at all levels, reaching 30% in managerial positions and focusing on employee wellbeing and health.
MOL will also pursue a strong collaboration with the communities, its partners in the supply chain as well as the regulators, ensuring the involvement of practically every layer of the society in the transition process.
Downstream
Transform ourselves profitably towards a highly efficient, sustainable, chemical focused leading downstream player.
Our ambition is to:
Converting 1.8 mn tons of fuels to more valuable petrochemical feedstock by 2030, through two investment cycles using highly efficient technologies and targeted start-up in 2027 and 2030, respectively.
Integrating circular economy technologies into our core business, bio and waste-based streams in production and scaling up recycling
Retaining a leading position in traditional Downstream with an accelerated modular transformation to generate attractive return in the 2020s and reaching 1.2+bn EBITDA by 2025
USD 150mn pa. efficiency improvement by 2025 to ensure MOL Group remains among the best refiners in Europe
Accelerating transformation towards becoming a sustainable chemical company with USD 4.5bn CAPEX until 2030
Decreasing scope 1+2 CO2 emissions by 20% by 2030 in existing operations, utilizing Carbon Capture and Storage opportunities together with E&P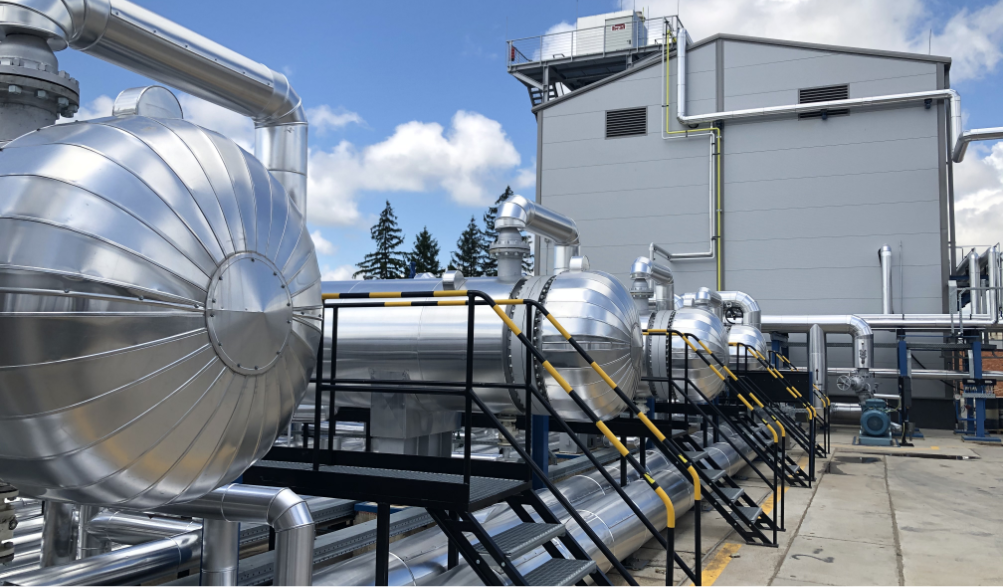 Consumer Services
Become the first choice of customers as a best-in-class digitally-driven consumer goods retailer and an integrated, complex mobility service provider by 2030 with significantly higher revenues, earnings and free cash flow.
Our ambition is to:
Sell kilometres instead of litres: expand alternative fuel portfolio and complex mobility services in the second half of the decade
Diversify sales channels through integrated digital platforms and franchise models, expand our service station network organically
Further develop the food and convenience offers and continue the standardisation and digitalisation of processes
Reach USD 700+ million EBITDA by 2025
Become carbon neutral on scope 1+2 by 2030 and focus on conscious waste management and recycling
Upstream
Maximize the value of existing assets, manage the CEE decline and grab CCUS opportunities in the region, coupled with opportunistic portfolio management and strong cash generation
Our ambition is to:
Produce cash instead of barrels: maximize the value of existing investments and manage the decline in CEE
Efficiency and cost reduction in every possible aspect
Look for CCUS (Carbon Capture, Utilisation and Storage) opportunities to leverage geological knowledge of the Pannonian basin and become a leading player in CEE, together with Downstream
At least USD 1.8 bn simplified free cash flow in 2021-2025 at USD 50/bbl oil prices.
Become net carbon neutral on Scope 1 and 2 by 2030 on a portfolio-level
Financial framework 2021-25
Fully funded transition and stable shareholders remuneration, strong balance sheet
Conservative mid-term base macro assumptions, increasing carbon prices (potentially reaching EUR 100/t by 2030)
Rising EBITDA from USD 2.3bn in 2021 to USD 2.6bn by 2025 driven by Downstream projects, Consumer Services growth and efficiency improvement
Sufficient cash flows will be generated in 2021-25 to cover both "sustain" capex and at least USD 3.5bn strategic capex — including USD 1bn new, low-carbon, circular economy investments —, as well as stable base dividends
Keeping a strong financial profile through a robust balance sheet and ample financial headroom remains a priority
Increasingly utilize green funding opportunities in Europe
Balance sheet flexibility may be used to fund new business opportunities, including cash-generative M&A across all business lines
Please see our Capital Markets Day presentation